Számos kutatás bebizonyította, hogy az élő chat a legnépszerűbb digitális ügyfélkommunikációs csatornává vált és az is marad. Ez egyben az egyik legrugalmasabb eszköz, amelyet webhelyén különféle célokra használhat – az ügyfélszolgálattól kezdve a proaktív értékesítésig és marketingig. Az alábbi bevált példák a használatra kész élő csevegőszkriptekhez (sablon válaszok) a leggyakoribb élő csevegési forgatókönyvekhez segítik az ügynököket: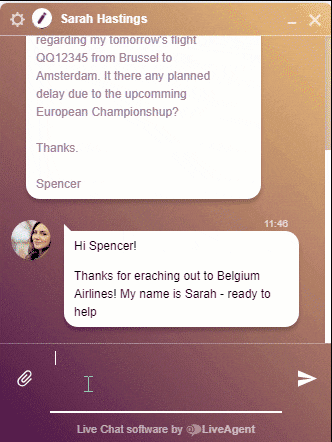 Gyorsabb válaszadás, amikor beszélget a látogatókkal és az ügyfelekkel;
Kerülje el ugyanazok az üzenetek újra és újra beírását, és növelje a hatékonyságot;
Több látogatóval egyidejűleg léphet kapcsolatba a szolgáltatásnyújtás veszélyeztetése nélkül;
A megfelelő hangnem fenntartása és következetes márkaüzenetek biztosítása;
Időben kínál ügyfélszolgálatot és javítja az ügyfelek elégedettségét;
Növelje a konverziókat azáltal, hogy proaktív módon célozza meg a potenciális felhasználókat egy adott webhely oldalán.
Csevegés megkezdése
Általános üdvözlés
Üdvözlet az ismétlődő látogatóknak
Egy ügyfél rossz céghez fordult
Proaktív csevegési meghívók
Visszatérő látogatók
Tétlen látogatók
Árazási/ fizetési oldal
Proaktív értékesítés
További információk kérése
Általános információk kérése
Megértése igazolása
Várakoztatásra tenni
A sorban
Csevegés közepette
Csevegés folytatása
Csevegés átirányítása
Panaszok kezelése
Elnézést kérni egy probléma miatt
Nem sikerült teljesíteni egy kérést
Csevegés összefoglalása
Megköszönni az ügyfélnek
Amikor a látogató nem reagál
Ready to try our live chat templates?
LiveAgent is the fastest and leanest live chat solution on the market. Try it today with our free 14-day trial. No credit card required.
Free Trial
Vissza a sablonokhoz