Mi a PipeDrive?
PipeDrive is an easy to use CRM (customer relationship management software) that allows you to manage leads and deals, and also lets you track communications, and automate workflow. In addition to that, PipeDrive gives you insights into your sales people's performance and allows you to generate reports based on the data in the pipeline.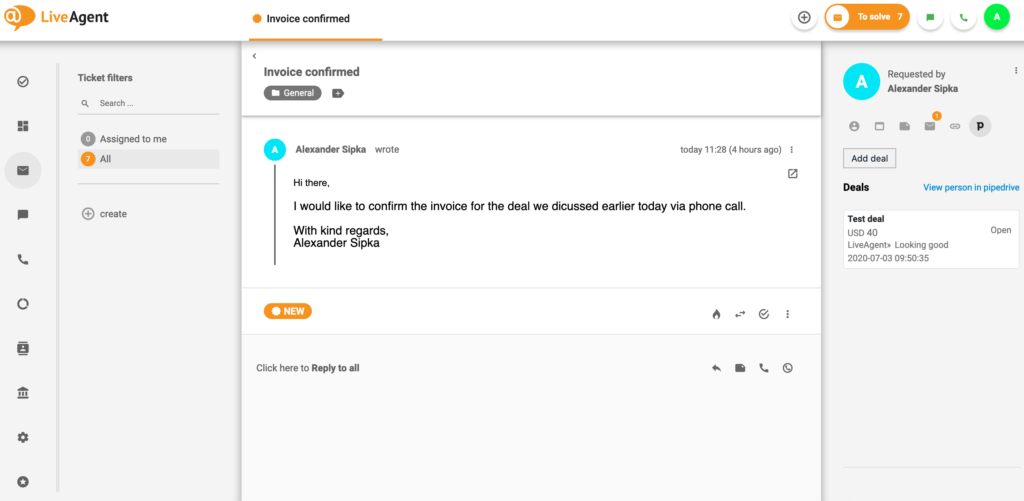 Miért fontos a PipeDrive?
Using PipeDrive is important for sales teams because it allows them to manage and track the progress of their deals and leads through an intuitive dashboard. In addition to that, PipeDrive users can also store important lead information such as contact information, service level agreements, and deal values in their pipelines. Users can also utilize a feature that syncs all lead communication with the software, allowing team leaders to keep an eye on all activity and progression.
A PipeDrive és a LiveAgent összekapcsolásának előnyei
When you activate your PipeDrive plugin in LiveAgent, you will be able to register new deals and get instant access to information about existing deals pertaining to the customer you're assisting within your LiveAgent dashboard.
When LiveAgent connects your PipeDrive account, it will run background checks on PipeDrive deals, their statuses, and values. All this information will be shown in the PipeDrive widget that is displayed in your ticket info panel. By using this plugin you can view and register PipeDrive deals directly in LiveAgent account while communicating with your customers.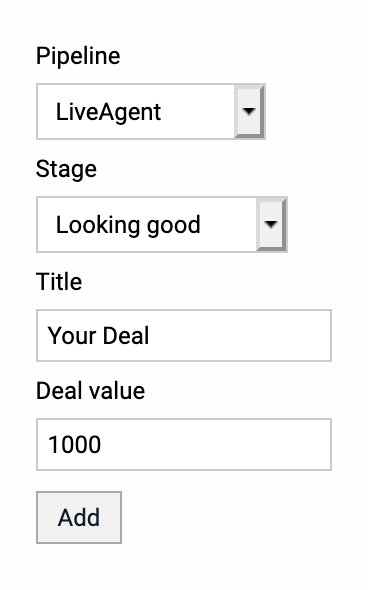 Esetek és bevált gyakorlatok
Miután rákattintott a PipeDrive ikonra a LiveAgent jegy részleteinek paneljén, a következőket teheti:
Regisztráljon új PipeDrive ügyleteket a LiveAgentben
Tekintse meg az összes regisztrált ügyletet, amely az ügyfélhez kapcsolódik

Lényegében a LiveAgent PipeDrive integrációja időt takarít meg és hatékonyabb. Azáltal, hogy ezeket az információkat kéznél tartja a LiveAgent belsejében, könnyen meghatározhatja, hogy mikor érdemes eladni az ügyfeleknek vagy kedvezményeket kínálni nekik.