Internal calls feature provides you the opportunity to switch internal chat for a much more convenient way of communication with your colleagues, voice chat. A feature directly built into the LiveAgent with the rest of the call center enables you to quickly solve any issues you might face or get the right answer in a very short time. Creating an internal call is very easy task.
Csak kattintson a + gombra a felső sarokban és válassza az ,, Új belső hívás indítása" opciót a felsoroltak közül.
This will open a new part of LiveAgent, where you can select the person you would like to speak with. Clicking on the call button will immediately open a new ticket with its own ID and the interface similar to the rest of the LiveAgent.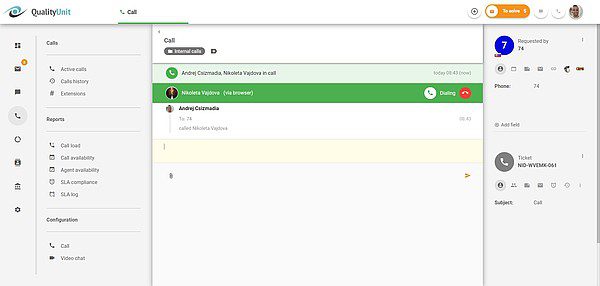 Similar to the internal chat, you have the opportunity to insert a note containing Ticket ID (which is clickable and will direct you to that ticket).
Ha egy adott jeggyel vagy vevő kérésével kapcsolatban van segítségre szüksége, akkor is indíthat belső hívást, egyenesen az adott jegy felületéről. Ha a 3 pontra kattint, előhívja a választási lehetőségek listáját és ezek egyike a belső hívás. A hívásindítás menete ugyanaz, mint az előző esetben. Válassza ki a kollégát és nyomja meg a hívás gombot!